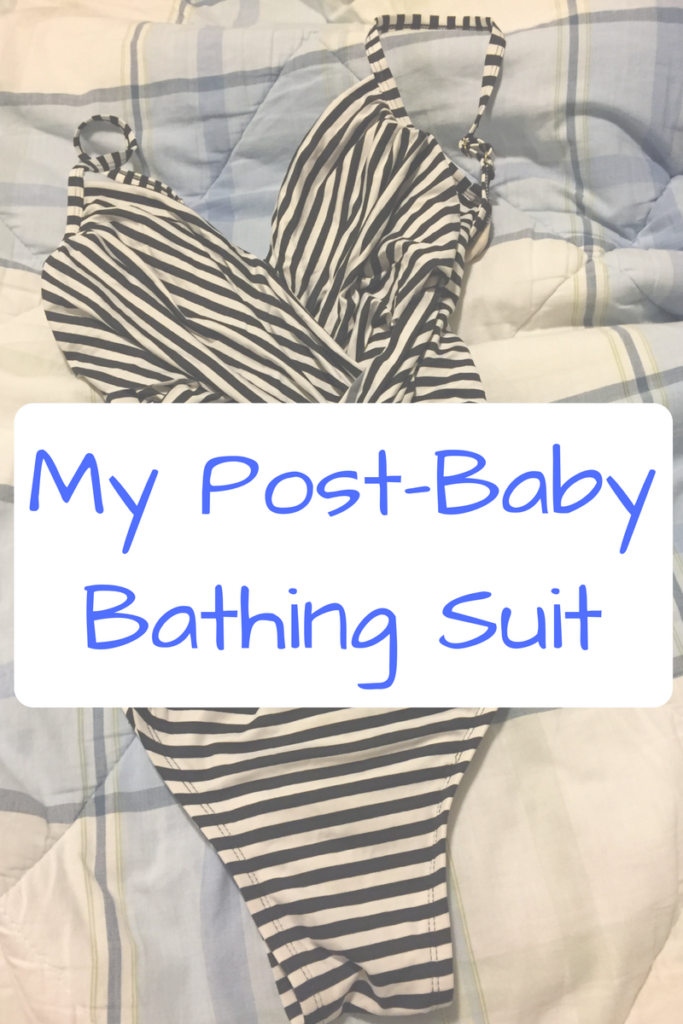 I stood in Target, looking for something on the shelves that they never carried and never will. In theory, I was there for a bathing suit. My first post-baby bathing suit since my second son arrived in the world. As I hadn't lost the baby weight yet, I needed one so that I'd be ready for a family trip to Cape Cod. But like so many bathing suit searches, it was about much more than a piece of fabric.
Trigger warning: pregnancy loss/miscarriage, pregnancy complications
While I have a tumultuous relationship with my closet, buying a bathing suit hadn't historically been a source of stress. In fact, thinking about bathing suits brought me back to a time that I didn't have issues with my body, at least from the neck down.
From fifth grade to eighth grade, I swam competitively. I swam all year round: summer, fall, winter, spring. At ten to fourteen years old, that was a huge chunk of my life.
Even though the locker room could be a cesspool of body grief, none of that affected me. I'd walk around the pool in my competition swimsuit, often not bothering to put on shorts or a shirt. I'd sit on the hard tile floor inside or concrete outside, playing cards, joking with my friends. I'd launch myself off the starting blocks, never worrying about what people thought of what they saw me.
Honestly, my body just wasn't a concern. It didn't occur to me to be ashamed of it. I had enough other crap in my teenage life – my terrible acne, my severe lack of popularity, my social awkwardness – to be ashamed of. At that point, it was one of the few things about myself I was mostly okay with.
As I grew older, some of the doubt and shame crept in. Trying on pants, I cursed when they'd pull across my belly. Wearing dresses, I'd sigh at my lack of a bust. But for the most part, bathing suits didn't trigger those emotions. I just put on my suit and jumped in the pool, pulling myself forward stroke by stroke.
This didn't change much with my first pregnancy. Afterwards, I actually reveled in my body's abilities. In fact, I was so proud of it. This body grew a whole baby! And then it pushed it out without any pain medication! And then it even fed the baby for over a year!
Before, all of my physical accomplishments were because of my self-control. They came from my mind imposing its will on my body. But I knew I couldn't force a healthy pregnancy. So I was finally giving my body the credit it deserved.
That all changed with my second pregnancy. At 10 weeks, I learned that the child-to-be inside of me had stopped developing. Suddenly, my body was poison. It was broken. It betrayed me. It failed me. The promise, the trust I put in it, disappeared.
Even after I got pregnant again, I still looked at it with skepticism. "You better be able to do this," I mentally scowled. A trip to the hospital and miscarriage scare only heightened my distrust. To protect my unborn child and prevent bleeding, I had to follow restrictions that seemed so capricious. No walking for more than 10 minutes at a time. No biking. No yoga. No lifting your toddler. No, no, no, no. What happened to my body that had taken care of the first child so beautifully?
I'd say all was forgiven when Little Bird was born, but that wouldn't be quite accurate. When he was born healthy, albeit it very abruptly, I was certainly grateful. But that sense of wonder and admiration I had when Sprout was born never returned. It was less of a "hurray, you're amazing!" and more of a begrudging "Good job. I guess."
Having to put almost all physical activity on hold during my second pregnancy also made my recovery harder. I lost a lot of core strength and still haven't worked back up to my cardiovascular endurance. That combined with sheer lack of time to exercise meant that I maintained about 10 pounds of the baby weight.
And so that's where I was in that shopping trip in Target. Of course, I didn't find what was looking for. There's no bathing suit in the world that could restore my lost confidence. But besides that, I didn't even find a half-decent one. All of the two-pieces were too flimsy to stay put during the ocean body surfing I love so much. I finally settled on a one-piece that was okay at best. On vacation, I kept having to shimmy the shoulder straps up just to keep it from falling off.
As this summer approached, I thought back to how much I disliked that Target swimsuit. I bought the it assuming it was temporary. That my weight was temporary. That my body was temporary.
But now, it's clear my body is very much permanent. It is what it is. Why spend my energy fighting that fact? Better to accept it and buy a bathing suit that actually works. Not something sexy. Not something that will make me feel beautiful. Just something that I can swim in without worrying about it.
I flipped through the aspirational catalogues of pretty young things surfing at the beach. But nothing was quite right.
And so I thought back to when that acceptance of my body was a given. To the Speedo swimsuits I loved, with patterns of purple and blue marching across my adolescent body. Of course. Sometimes, you need to look backwards to move forward.
With that, I finally found my post-baby bathing suit to finally go with my post-baby body.
Motherhood changes us – in some ways big and other ways small. I reflect on these changes in The Before and After of Motherhood. Be sure to follow our Facebook page! 
SaveSaveSaveSaveSaveSave
SaveSave
SaveSave