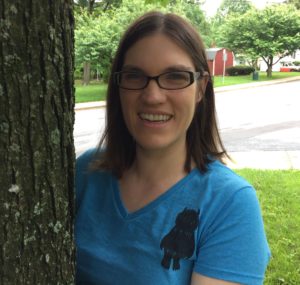 Looking for a blog that covers both the surprising joys and teeth-grinding challenges of being a parent? That offers practical advice on green living and getting outside with kids while not shying away from utter failures? That isn't afraid to tackle difficult topics like social justice but also has goofy shit like comparing my baby to a mole? If so, welcome! If not, welcome anyway. I love to have you here no matter what. I'd also love it if you'd follow me on Facebook and Twitter.
I'm Shannon Brescher Shea and I've been a writer since I could hold a pencil. While I'm not making hand-bound books with my own illustrations anymore, I do write about my life and topics I care about, especially parenting and sustainability. I have two young sons, nicknamed Sprout (four years old) and Little Bird (just turned one). My husband Chris is a stay-at-home dad who does his best to somewhat moderate the chaos. We live in the Maryland suburbs of Washington D.C. Our goal is to raise kids who are kind, love learning, value sustainability, and are interested in exploring. This blog chronicles those efforts!
The blog's name is from the classic children's book Where the Wild Things Are. In addition to being my husband's favorite book as a child, I've found that it has incredible resonance for me as a parent. We love it so much that we dressed as the characters from it last Halloween!
Previously, I wrote the blog Will Bike for Change (or Pie!), which focused on bicycling and sustainable food. I've also written for Parent.co, Huffington Post, the Children and Nature Network, Pregnant Chicken, Mamalode, Rants from Mommyland, Greater Greater Washington, Simplicity Parenting, the New York State Conservationist, and Adirondack Sports and Fitness. Here's a list of all of my guest posts. At my day job, I'm a science writer for the federal government.
Contact me via my email form. I do not write sponsored posts. However, I do welcome pitches for guest posts that fit in my areas of interest as well as relevant invitations to guest post on your blog.