What are your favorite stories from childhood? While I have many beloved fictional stories, I also hold the family stories my parents hold me close to my heart. Now, we share those stories and others with our kids as part of a long tradition.
I wrote about the power of sharing stories over at A Fine Parent with the article "How to Use the Power of Stories to Connect and Teach."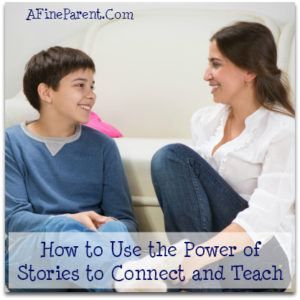 Gathered around a fire, a mother and child talk in quiet voices.
The flames leap as the mother tells the child stories of ancestors, far-away lands, and fantastic situations. Drowsy, the child falls asleep, her head on her mother's lap.
This could be a scene from 10,000 years ago or 10 days ago.
Storytelling is a core part of what makes us human.