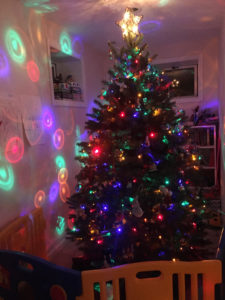 When I close my eyes during Christmastime, I see my parents' house, with its fresh tree with white twinkling lights, ornaments from my childhood dangling off it. My dad has classic rock on in the background, either from an ancient speaker system or the TV, depending on what memory I'm drawing from. In the kitchen, my mom is making a gingerbread house with my older son, placing marshmallows just-so.
Closing them again, I see my in-laws' house, all singing animatronics, baskets of candy, and holiday music. I'm lounging with my husband's family on their brown plaid couch, gazing at the multi-colored lights. It's not quite as familiar as my own parents' house, but is still embedded in my heart and mind.
But when I open my eyes, none of that is present. It's not even accessible – neither my parents or my in-laws live in those houses anymore.
Yet, despite that loss, it feels like we're finally home for Christmas. That's because this is the first year my husband and I have celebrated Christmas with our kids in our own house.
I loved those past holidays. I am forever grateful that my kids were able to spend that time in their grandparents' houses.
But those Christmases never quite felt like home. The wafting smells of snickerdoodles baking weren't from our kitchen. The tree wasn't one we cut down ourselves. Christmas morning involved bouncing between the two houses, opening presents at one, then the other, before bringing everyone together for dinner. The entire week was a calendar-breaking balancing act of deciding who was going to be where and when. We were always trying to ensure everyone got the "right" amount of time with the kids. Mashing together traditions mostly worked – except when they didn't.
Most importantly, there was always a sense we were stuck in time. That by returning to the location of our childhood Christmases, we were beholden to their traditions and rhythms. Even once we had children, it was difficult to start our own traditions or even our own spins on our families'. In fact, we were gone for so much of December in years past that we didn't bother getting a tree.
This year was all about rooting ourselves at home.
Two weeks ago, we trekked through the snow to cut down our own tree on the coldest day of the year (as per tradition). It's now nestled in the corner with our ornaments dangling down, many which I haven't seen in years. We've been working our way through our Advent calendar, a combination of old and new. Although my mom sewed the calendar itself for me when I was a kid, we've adapted the activities to match our interests and what's available in our area. Last week, my in-laws visited us, baking cookies with the kids in our kitchen and accompanying us to the annual model train exhibit at the National Botanical Gardens.
But more than anything else, it's about the small moments. Watching Christmas movies in our living room. Sipping hot chocolate together. Lighting the Advent candles before dinner.
As I sit on our giant beanbags, watching our tree's funky energy-saving lights, I know this is where I'm supposed to be.
It has been – and is going to be – our family's holiday, through and through. We made great, beautiful memories at our parents' houses. Now it's time to make holiday memories in ours.
For more thoughts on growing up even as an adult, check out Saying Goodbye to My Childhood Home. Be sure to follow us on Facebook! 
SaveSave