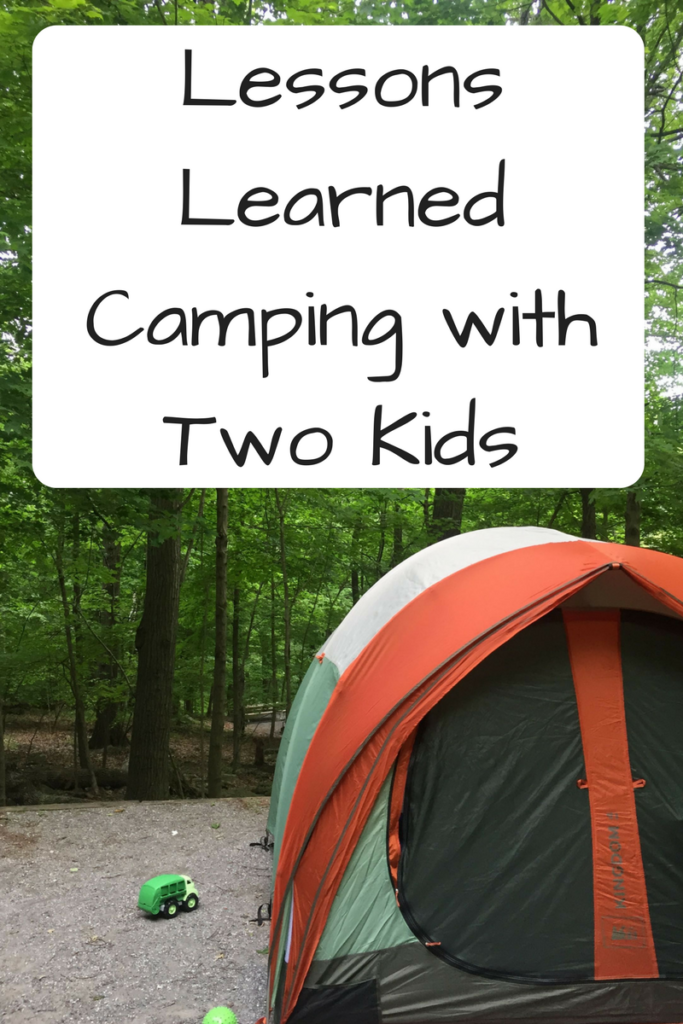 Feeling the thump thump thump of kicking feet against my back and the cries of the baby who did not want to be in the car any longer, I thought, "What the hell was I thinking trying to go camping with two kids?" We were still 45 minutes from our site and things were already going very badly. Fortunately, a couple of potty breaks and some whining later, I realized that the camping trip this past weekend turned out a hell of a lot better than I expected it. In fact, it was easily our best camping trip so far.
It had been almost two years since we had gone camping with Sprout. It was the first time we went camping with two kids. Even though the times with Sprout were chaotic, from clueless packing to partying college students, I still wanted to go. There's a genuine magic that makes all of the other nonsense worthwhile.
Thankfully, this trip to Cunningham Falls State Park reinforced my love of camping with my family.  Looking back reminds me of the questions we discuss with Sprout at bedtime: "What were your favorite things?" "What were you proud of?" and (although this hasn't quite caught on yet), "What did you learn?"
What were your favorite things?
How immensely excited Sprout was about peeing in the woods: As illustrated by the potty-break emergency on the way to the campsite, Sprout is extremely hestitant about telling us when he needs to go. In particular, the loud hand dryers in many bathrooms terrify him. But peeing outside seemed to be a revelation. When he and Chris came back after the first time, he exclaimed, "Mama, I peed on a tree!" That's awesome, sweetheart.
Rocking Little Bird to sleep: On our first camping trip with Sprout, I put him in the pack-and-play and then rushed out. An hour later, he woke up screaming. Something similar happened this time around, but with one key difference. When I put Little Bird down after we finally finished dinner, he looked mildly confused, but accepting. A few minutes later, we heard cries emanating from the tent. Sighing, I went back in hoping that this wasn't going to be my bedtime as well. I picked him up and rocked him slowly. Usually, he just squirms and arches his back. This time, his body relaxed and his eyes fluttered. By the time I put him down, he was calm enough to fall asleep on his own. As he grows out of being a baby, it was so sweet to be able to rock him like I used to.
Sitting with Sprout around the campfire: With his little brother asleep, Chris and I got to spend some quality time with Sprout. At bedtime, we're usually a rush to get both of them in bed by something resembling a reasonable hour. But that night, we told him stories of our childhood camping experiences. That included four-year-old Chris informing everyone he met at the campground not to use a specific spigot because "it gives you the poops!" Sprout giggled and giggled at that one. Sitting on a log, watching the embers flicker, felt like an ancient parent-child bonding ritual.
Walking with Sprout to Cunningham Falls: The next day, we explored the activities in the park. The Falls themselves – some of the tallest in Maryland – were definitely on the agenda. Unfortunately, by the time we got there, Little Bird had fallen asleep. Not wanting to disturb him, Chris took him to the lake entrance down the road while Sprout and I hiked to the Falls.
Even though there were a good number of people on the trail, we were on our own much of the time. I frequently looked out into the woods, with the sunlight throwing patterns on the ground, the leaves sparkling with green. The huge boulders and lack of undergrowth reminded me of the Adirondack Mountains of my childhood. Alongside me, Sprout kept up a rambling monologue about being a train and the variety of names he came up with for the trail (which were admittedly better than the real one). Other times, I would have been distracted and annoyed, but this time it just flowed over me.
Seeing Little Bird in the lake: When we caught up with Chris and Little Bird, we all rolled up our pants, took off our shoes, and waded into the lake. Unlike most forest lakes, Hunting Creek Lake has a sand beach with few rocks in the water. While Little Bird had been to a sand beach before, he was too little to remember it. He stood with his feet in the water, leaning over and running his hands through the sand. I held him by one hand or his waist to keep him from tumbling forward. He gazed at the water, pushing the sand around with his fingers, marveling at how he could sculpt it. I just watched with a smile.
What were you proud of camping with two kids?
Learning from past mistakes: I'm by far the most proud that we didn't make the same mistakes again! The biggest improvement was that this time I looked up the location of and directions to our specific campsite. The park has multiple locations with campsites, so this was essential.
Not feeling guilty about letting the kids do their own thing: Camping requires an absurd amount of set-up and clean-up time. We've gotten faster, but there are no real short-cuts. And you can't put anything off for later – if you don't do it now, you either won't have dinner or won't have a place to sleep. While we obviously kept an eye on the kids, we largely left them to their own devices. And they were super happy about it. Little Bird sat in the dirt and chased his ball, only complaining when it went outside the campsite. Sprout made "hiking paths" in the nearby woods, looping in circles between the trees. We brought a few toys, but they hardly used them.
Not freaking out when Little Bird ate dusty crud: Every time I took my eye off Little Bird, I'd turn around to see his mouth covered in dirt. I just kept reminding myself that he was replenishing his microbiome.
Having the foresight to buy a car-top carrier beforehand: Buying a car-top carrier made going on the trip actually possible. There was no way in hell we could fit all of that crap plus the kids in our teeny Prius. In addition to sheer amount of space, the car-top carrier provided flexibility in packing and unpacking the car. We didn't need to Tetris all of our stuff in and out every time we needed to get a single thing.
What did you learn camping with two kids?
Get out stuff packed earlier: One day, eventually, we will learn this. Maybe. Sprout had a preschool event in the morning, so we already had a major delay. Between that, lunch, and packing, we didn't leave the house until past 3 PM. Which of course, meant we hit Friday afternoon traffic. Adding to all of that was the potty break issue. We didn't get to the campsite until past 5 PM. Thank God we've gotten faster at setting up.
Don't rely on the fire to cook food: Chris loves cooking over the fire. I think as a former professional cook, it provides him with the ability to feel like he's doing something radically different. Unfortunately, it also takes freaking forever. This time, we didn't bring anything that needed to go in the coals (like potatoes) so when the wind kept blowing it out, it wasn't a major tragedy. We ended up starting our corn on the cob on the camp stove and then finishing it over the fire, which worked perfectly.
Remember that nap time outside of home is no guarantee: I counted on Little Bird sleeping in the car both on the way there and the way back. Neither happened. C'est la vie.
Expect that every place will be different: When we pulled into the campsite, my heart sank a little bit. I remembered grassy spaces from both Shenandoah National Park and Brunswick Family Campground. But our current site was all packed dirt. You know what? It turned out fine.
Keep a close eye on the baby in the tent: He seemed like he was entertaining himself. Then I realized he was picking up handfuls of fine gravel and dumping them in the tent.
Don't trust the vague maps parks give you: Besides the rocky start, the only really disappointing thing was missing a presentation on owls at the park's aviary. This happened because I relied on the map the park gave me. We ended up on a rural back road that you couldn't drive more than 25 mph on.
Abandon expectations for bedtime: There are some interesting parenting bloggers who insist that children should choose their own bedtime. Unfortunately, we know from experience that our kids would stay up until midnight if given the opportunity. But camping is the one time we can safely put this principle into practice. You need to stay up late to properly experience the stars and the campfire. At the same time, the darkness means that sleepy eyes start closing on their own. Sprout actually told us, "I just want to go to bed." Camping FTW!
One day is really enough: The park required we book for two nights. We thought, "Well, maybe if it goes really well, we'll stay a second night." Despite it going awesome, we didn't. Everyone got way more sleep the next night. It was the right move.
For other adventures in the outdoors, be sure to check out my post about hiking the Great Falls section of the C&O Canal. Be sure to follow us on Facebook! 
SaveSave