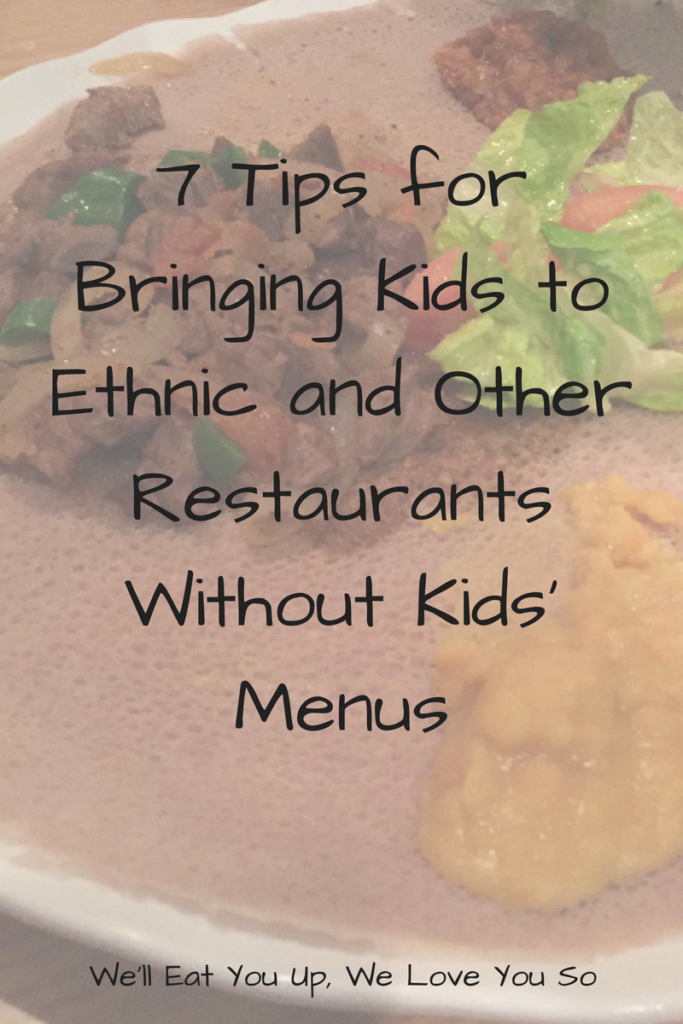 "Where do you want to eat?" Anyone who has ever gone to a restaurant with their family has faced this question, probably followed by a drawn-out conversation about likes, dislikes, convenience, and whatever dish you got there last time. If you have young children, you may automatically exclude whole categories from consideration. You may never even consider bringing kids to ethnic restaurants and others without children's menus.
But if you've always longed to check out that new Indian place but don't want to spend money on a babysitter, there may be hope. It's actually easier to bring kids to restaurants that don't specifically cater to families than you think.
While it may seem intimidating, I've successfully brought my toddler to restaurants that specialize in a variety of cuisines, including fancy Italian, Ethiopian, Peruvian, and Japanese food.
Here are a few tips that can help:
Give your kids the benefit of the doubt
They may be more adventurous eaters than you think! There's nothing about being a kid that guarantees they must eat only fried foods and pizza. After all, Italian kids eat blood soup and Chinese kids eat pigs ears. (Not all of them, of course.) My four-year-old actually likes spicier food than I do. He dips his pizza crust in hot sauce!
Use a food they already like as a hook
My son will eat pretty much anything with noodles in it. This opens up a whole world beyond American-Italian food, with pho and ramen in the mix. Similarly, because he loves peas, he was willing to try an Indian dish with peas slathered in tomato sauce.
Look up menus online ahead of time
Most restaurants post their menus online now. If you're nervous that your kid won't find anything they like, take a look before you go.
Find food that's fun to eat
Even if the tastes aren't familiar, kids will enjoy bite-sized food or ones that have similar tactile appeal. Ethiopian food is typically eaten without utensils, with the diners using hunks of squishy bread to scoop up the sauces. Edamame at Japanese restaurants is fun to pop out of its pods. Despite his aforementioned love of noodles, my son ignored his ramen to spend all night popping out the little beans. If your kids are older, teach them how to use chopsticks. Traditional Chinese and Japanese restaurants will supply them. You can even buy beginner chopsticks that help kids learn and bring them along!
Walk around and look at the decorations
Many family-run restaurants, especially those focused on the food of a specific culture, have vibrant, elaborate decorations. Chinese restaurants often have beautiful wall hangings and cats that roll their eyes back and forth. A Cuban restaurant near us has names and photos of hundreds of famous Cuban-Americans plastering its walls. If your kid is antsy at the table, walking around can often have a calming influence.
Pick an ethnic restaurant with an open kitchen
Kids are automatically more engaged when they can watch the food being made. My son loves watching cooks slide wood-fired pizzas into the oven and sushi chefs construct rolls. It's also a good way to spend time while you're waiting for the food to be served.
Embrace small plates
Tapas and dim sum places are great to bring kids because every dish is kids' sized. They can be hard on your wallet, but at least you aren't paying for a full adult meal. Plus, if your kid doesn't like what they ordered, there are a lot of other choices to try.
How well these tactics will work depend on your kid's level of comfort for trying new things and sensitivities to taste and texture. But trying something new is worth a try. It's only one meal and you never know what you or they will like!
Check out our experiences bringing Sprout to an Ethiopian restaurant when he was two. To follow our successes and (sometimes hilarious) failures, be sure to follow us on Facebook!
SaveSave
SaveSave
SaveSave