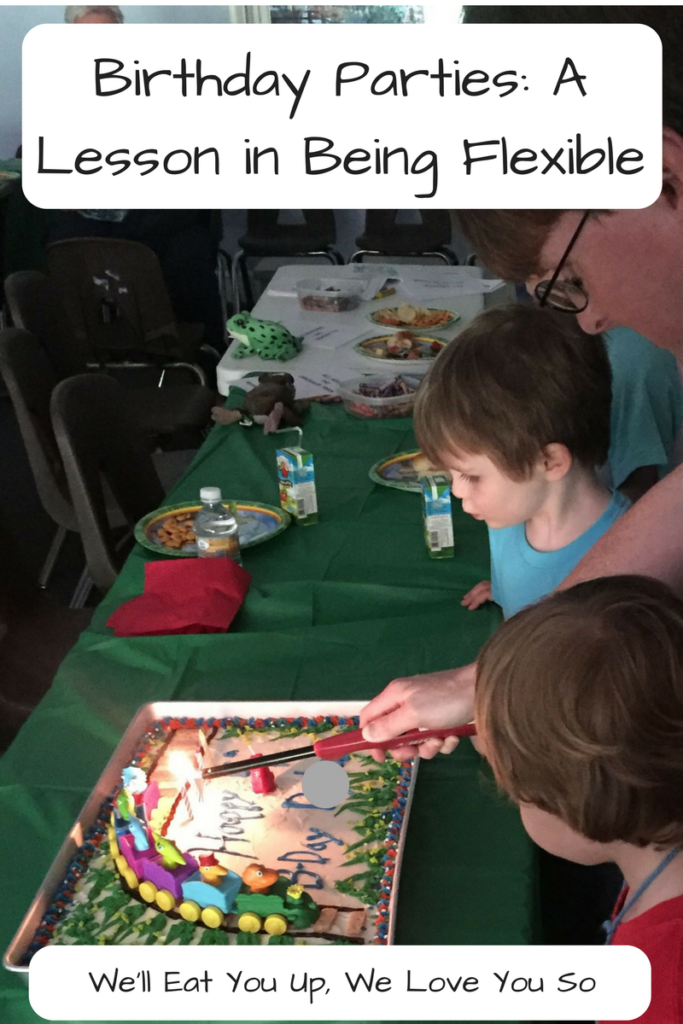 The band-aid was the first sign of trouble.
My parents, my in-laws, Chris, and I were all rushing around, trying to set up Sprout's fourth birthday party. A few days earlier, Sprout had badly cut his ring finger and now the band-aid was peeling off. Like all children, Sprout takes his band-aids Very Seriously. While we have a plentiful supply of Thomas the Train band-aids at home, my current stash was limited to Star Wars. "Look, I have Star Wars band-aids!" I exclaimed, trying to work up an adequate level of enthusiasm. "I don't want Star Wars band-aids! I want Thomas!" he cried. After much whining, including an exclamation of "I don't want to watch Star Wars!," my mom resolved the situation. She offered to "make" a dinosaur band-aid from a plain bandage and dinosaur stamp.
This dramatic arc was solid foreshadowing for the rest of his birthday party.
The Pressure Builds
Organizing Sprout's birthday parties always stress me out. People complain about how elaborate birthday parties are today and how they were so different way back when. Not me. Back in the day, my mom was the queen of parties. She would have been a hit on Pinterest. From five different activity stations at an art party to making real food with small children at a cooking party, her events were well-planned and elaborate. Naturally, I feel the need to live up to this legacy even though she didn't pass the crafty or organizing genes down to me.
Despite the pressure, I wanted this party to be simple. We can only fit a handful of kids in our house, so we rented out the party room at a local park. We'd eat, ride on the miniature train, and head over to the giant playground. I'd leave the food up to Chris. You can't get too much simpler.
Then the weather report the week of started predicting thundershowers. There would be a good chance of not going out to the playground and potentially missing the train ride. That would be catastrophic for a train-loving little boy having a Dinosaur Train themed party.
So we started stock-piling ideas. My mom printed out pin-the-tail on the dinosaur pieces and dropped off books full of elaborate crafts. Just looking at them made my heart pound.
The Unpredictable Absurdities of Birthday Parties
While the weather ended up holding out, a series of events still tested my sanity.
When the kids started arriving, Sprout refused to move from the computer. A slideshow of photos of himself transfixed him. "I'm listening to music," he declared. Thankfully, turning the music off was enough to rouse him from his stupor.
Playing Duck Duck Goose, one of the three year olds kept getting up and running around, whether he was picked or not. As we started Pin the Tail on the dinosaur, Sprout flat out refused to play. (No clue why.) Hardly anyone are the food. After a point, the children were salivating over the cake too much to do anything else. When we finally got to ride the train, sitting in the very first car, the engine's noise and whistle clearly bothered Sprout. (He didn't complain; I just felt bad for him.)
But the worst thing by far was something I was solidly to blame for. Half our guests showed up late. Very late. More than 45 minutes late. To a children's birthday party.
Some of it was due to Washingtonians' lackadaisical relationship with being on time, but some of it was because I gave really crappy directions. I assumed that the address on the park's website for the train station would actually put you near it. First bad assumption. I also assumed that most people were passingly familiar with the park. Second bad assumption. Lastly, I assumed that there were clear signs to the train station (where the party room was) near the parking lots, as there had been in the past. Third bad assumption.
Instead of arriving at the party room, our guests drove past the parking lot, ended up in the wrong parking lot, or just aimlessly wandered around the park with small children in tow. One dad with twin girls got so fed up that they got on the train as soon as they got to the station – without the rest of the party. As we played in the party room, we spotted them sitting on the train!
Learning to Be Flexible
While I wanted to melt down, I managed to be flexible. I muttered a few choice words under my breath and complained to Chris, but mostly kept it together. For situations that I couldn't do anything about, I tried to let it go. For solvable problems, I took a deep breath and found alternative solutions. As a result, I mostly maintained my sanity and Sprout enjoyed his party.
In a lot of ways, those few hours were a microcosm of what we do as parents all the time. Prepare for the worst, hope for the best. Know nothing will go as planned and be okay when it doesn't. Most of all, be flexible. Maybe I'm getting better at this whole parenting thing after all. Even if I forget to pack Thomas band-aids in the diaper bag.
I have an ongoing struggle with perfectionism in my parenting, which I also talk about in the context of visiting Disney World in The Perfect Girl is Gone and comparing myself to social media in What You Don't See. Be sure to follow us on Facebook!
SaveSave
SaveSave
SaveSave