If you want to buy fewer toys and enable more adventure, here are 12 outdoor gifts for the kids of all ages in your life.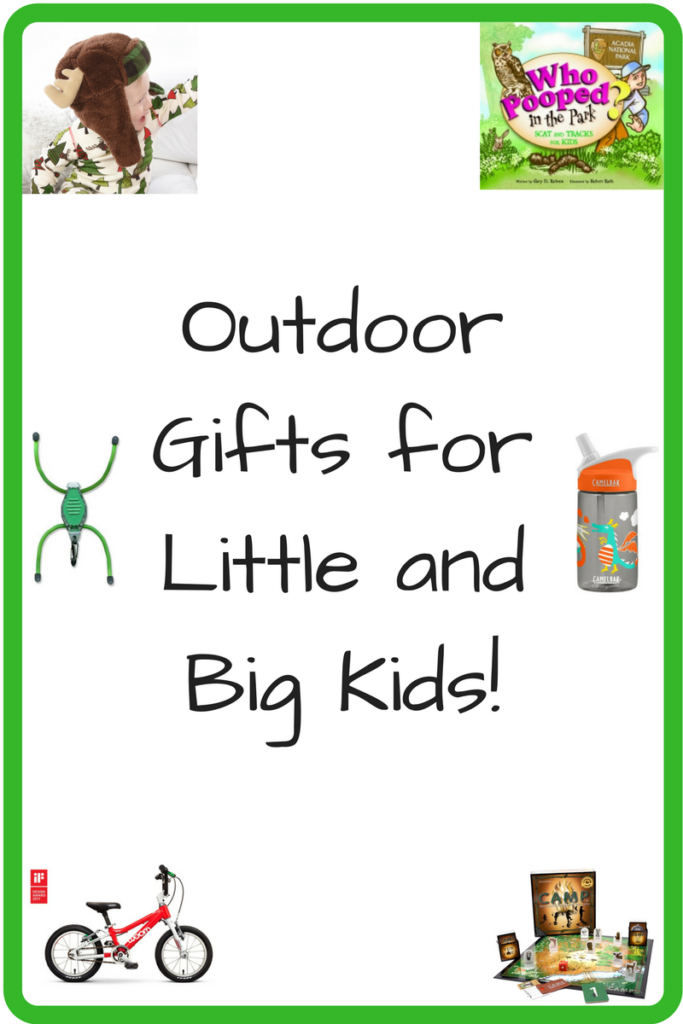 "We are not buying a whole bunch of toys for Christmas," I said to my husband last year. In fact, that's pretty much what I say every year. We're not always successful, but generally try to focus on gifts that support our values of simplicity and adventure. Outdoors gear does both while also getting our kids more excited than ever about going out in what can be frigid weather in our area.
Adding some of these gifts to your kids' (or your own) Christmas lists can help winter feel more fun and spring feel closer than ever. Here's gifts that are great for our three favorite outdoors activities: hiking, biking, and camping.
Outdoor Gifts for Hiking
Water Bottle:  My kids are obsessed with water bottles. They make my 18-month-old feel older because he doesn't have to use a sippy cup. My four-year-old just loves them. This particular water bottle is so popular with them that my younger son kept grabbing them off the shelves at REI last weekend. We had just thrown out our full-sized one because of mold (not a product problem, a not-washing-often-enough problem), so we ended up buying this one as a replacement. Also, if your kids destroy the straw top like mine do by chewing on it or sticking their fingers in the hole, they do sell replacements.
Winter Hats: My husband and I are both originally from upstate New York, where I can truthfully state that I trudged uphill a half-hour through the snow to class. (In college, but still.) So we know the value of extra-warm clothing. While it's not as chilly here in Washington D.C., the damp, windy cold can be brutal. Warm hats are a must.
For babies, Joobles makes beautiful Fair Trade animal hats.  For toddlers, I have this hat featuring moose antlers on my eighteen-month-old's Christmas list. It's absurdly cute and the sale also benefits the National Wildlife Foundation. We just purchased this Turtle Fur-lined hat for my four-year-old, who proclaimed, "I love this hat!"
Socks: Socks are the ultimate "grandma" gift. But they're kind of nice stuffed in a stocking or partnered with some other outdoors clothing. Smartwool is expensive, but awesome. I wear Smartwool for everything from hiking mountains to biking to the Metro for work. These kids socks look super warm and comfortable.
Backpack: Having kids carry their own stuff is such a relief! Even if they can just carry their own water and a few snacks, it's that much less that you have to haul as a parent. Plus, kids love it. On our recent vacation, my four-year-old hauled around his own backpack very proudly. This kids' backpack from REI looks great and has wonderful reviews. It's a little big for my son now, but we may be getting it for his birthday!
Who Pooped in the Park? books: One of my favorite things about hiking is looking for fascinating bits of nature to point out to my kids. From fungus to animal holes, I'm always saying "Look at that!" While I have some knowledge of natural history – thanks, Field Biology class – there are some things that are blanks. One thing that my knowledge is pretty bad about identifying is "scat" – aka animal poop. The "Who Pooped in the Park?" books can come to the rescue! These hilarious and informative books help you identify what kind of poop you're looking at. The authors have put out a bunch of different books for various national parks, including Yellowstone and Acadia.
Outdoor Gifts for Bicycling
Woom Bike: If you're looking to get your kid a bike this Christmas, be sure to consider bikes by Woom. Yes, they're wicked expensive. Yes, they're worth it if you can afford them. We purchased the Woom 2 for my four-year-old for his birthday and he adores it. It's light, it handles beautifully, and he gets legitimately excited about riding it. You can't ask for much more from a bike. If you can't afford a Woom, website Rascal Rides has a great set of kids' bike reviews.
Giro Scamp: When I was looking for a bike helmet for my younger son, I knew I had to do some serious research. While my older son's helmet was safe, it was really hard to get on and off. I wanted to do better. With the help of great website Two-Wheeling Tots, I picked the Giro Scamp. It's comfortable and has a special new safety feature called MIPS. If only it could get my eighteen-month-old to enjoy riding in the trailer!
Outdoor Gifts for Camping
Safety Whistle: Losing my kids while camping is a huge concern for me; they both love to wander. While the little one is too little to even understand when he'd be lost, this safety whistle will be making an appearance in my older son's stocking.
Green Toys trucks: You shouldn't be too concerned about your kids being bored while camping. Dirt, sticks, and a couple of balls are pretty much all kids need. But if you're going to bring some toys, the Green Toys Trucks are amazing. They're sturdy, easy-to-clean, ethically-made, and environmentally sustainable. Perfect for futzing around in the dirt.
Camp Game: But what if it's raining? Getting stuck in a tent can be a whole lot of not fun, but the Camp Game can make it a little better. It also works if you're stuck in the house during a crummy weekend. It's great for kids of all ages – it provides natural history and outdoor skills questions at four different difficulty levels. The lowest level is easy enough that my four-year-old can answer many of the questions; the hardest level is hard enough that there's a number of them that I don't know even though I was a Natural Resources major in college.
Micro Flashlight: Having a good flashlight is key when you're camping. While an ordinary flashlight is exciting in and of itself for kids, this micro-flashlight that looks like a super-cute bug is even better.
The Down and Dirty Guide to Camping with Kids: If you want to camp with your kids, but don't have a clue where to start, the Down and Dirty Guide to Camping with Kids is a great guide. Even if you've been camping a lot pre-kids, there are a lot of considerations to think about when you add little ones to the mix. With a comprehensive run-down of all things kids-and-camping and a ton of checklists, we found this book so useful.
Among all of these gifts, I hope you find one or more that work for your family. Especially if you're like me and have said to your kids at one point, "There's no bad weather, only bad clothes!"
This gift guide is part of a larger effort from a number of different outdoors-oriented parenting blogs. Check these recommendations out as well!
If you're looking for even more options, be sure to check out last year's Holiday Gift Guide for Outdoor Families. If you're looking for gifts that are specifically ethically-made (Fair Trade, Made in the USA and more), check out my Ethical Toys Holiday Gift Guide!